New lower cost version of Watch is the best smartwatch for seniors.
Budget watch has most of the capabilities of its bigger brother
Doesn't have some health tracking features such as Blood oxygen and ECG
Family members can now set up the watch remotely
Smart software can even monitor when seniors fall and warn of loud noises
Comes with new giant watch faces designed for seniors
Smartwatches haven't traditionally been aimed at seniors, but Apple has now cottoned on to the fact they can actually be a great way to monitor the health of seniors.
In its most recent launch, it revealed it has added a bunch of new features aimed at getting seniors using their Watch to monitor their health – even allowing it to be set up remotely by family members.
It also made it far easier to set up the watch if you don't own an iPhone, as buying both is a big investment.
There are two new watches, an all singing, all dancing top of the range Series 6, which includes the ability to take ECG readings and even monitor your blood oxygen. However, it's expensive, starting at $399 (£379 in the UK). If money is no object, go for it – this is the best smartwatch on the market by far.
However, if you're on a budget, we think the new Watch SE is a better buy.
It features everything from fall detection to faces designed to be easily seen by seniors. You'll miss out on some of the more advanced features, but the fall detection and basic health tracking can be incredibly useful. It's also really great as a communication device, and can be controlled by voice using Siri, Apple's smart assistant.
It will cost from $279 (£269 in the UK), and can be ordered here.
It's available in two versions, one capable of making and receiving phone calls via the cellular network, known as the GPS version, and one that uses wifi to connect to your phone and get online, known as the GPS + Cellular version.
However, to allow someone else to setup the phone, you'll need the cellular version – so we'd recommend going for this.
However, you can set up and use the watch even if you don't own a phone, making it a potentially useful gadget for seniors who want to stay in touch but don't really feel comfortable with a smartphone. If you are in the market for a new iPhone, however, we think the iPhone SE is the perfect pairing for the Watch SE – read all about it here
Overall, we think the price and features for seniors make the Watch SE the best smartwatch for seniors.
Health monitoring
Apple Watch SE features the same accelerometer, gyroscope, and always-on altimeter as Apple Watch Series 6. It uses all these motion sensors and the microphone to power its health and safety capabilities including fall detection, Emergency SOS, international emergency calling, and the Noise app.
It'll even track how much you move around during the day, sending you electronic
Older adults can also benefit from a new Health Checklist in the Health app on iPhone, which offers the ability to track whether health features like fall detection have been enabled in one centralised view.
Fall detection
Using sensors built into the phone, Apple Watch is able to tell when you've had a fall – and call emergency services. It's a really useful feature you simply turn on and leave.
Once your phone detects a hard fall, it 'taps' you on the wrist, sounds an alarm, and displays an alert.
You can choose to contact emergency services or dismiss the alert by pressing the Digital Crown, tapping Close in the upper-left corner, or tapping "I'm OK."
If your Apple Watch detects that you're moving, it waits for you to respond to the alert and won't automatically call emergency services.
If your watch detects that you have been immobile for about a minute, it will make the call automatically.
After the call ends, your watch sends a message to your emergency contacts with your location letting them know that your watch detected a hard fall and dialed emergency services. Your watch gets your emergency contacts from your Medical ID.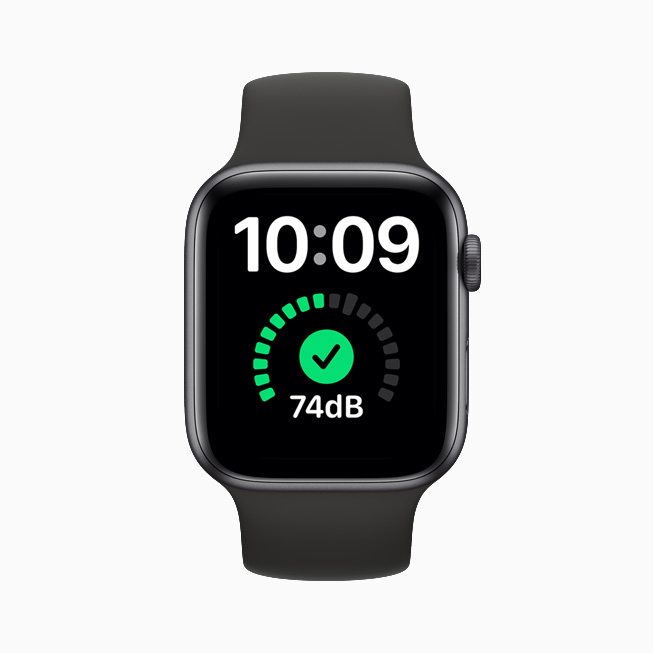 Hearing protection
Users can also check noise levels at any time through the Noise app or Noise watch face complication.
Apple Watch SE has a microphone to measure ambient sound levels in a user's environment.
It sends a notification if the decibel level of surrounding sound has risen to a point that it could cause damage.
Family Setup
One of the most useful features for seniors if the new family setup software. This lets a member of your family set up your watch for you, making sure everything is ready to go for you.
To use family setup, you need the cellular version of the Apple Watch.
New Watch Faces
Apple's watchOS 7 also offers optimised features for older adults, starting with a simplified onboarding and configuration process, along with a refreshed X-Large face that shows the time and a rich complication at a glance.
Verdict: The best smartwatch for seniors
Apple's Watch SE really hits a sweet spot for many, including seniors.
It's got almost all the health tracking capabilities of the more expensive Series 6 Watch, making it the best smartwatch for seniors.